ABOUT
Haukur Snorrason is a native-born Icelander and founder of Highland Guide Iceland.
Haukur (Hawk) is a professional guide (Iceland Guide School 2007-2008) and a professional photographer since 1993. He has focused on nature and landscape photography throughout his career, publishing three books with Icelandic nature photos. Haukur is also private pilot since 1991.
Together with his wife Hadda Björk, Haukur operates Look North Travel, a certified travel agency authorized by the Icelandic tourist board. Look North Travel operates the cozy boutique Hrifunes Guesthouse in south Iceland and Iceland Photo Tours, established in 2009, specializing in small group photo tours in Iceland.
In 2019 Haukur and Hadda published the book Our Land Food and Photography on Hadda's recipes and Haukur's landscape photographs.
Hadda's love of hospitality and gourmet cooking is on show at the Guesthouse, where guests gather to enjoy meals made from local produce. Anyone joining the hiking tours will get to enjoy Hadda's cooking and the "home away from home" atmosphere at their Guesthouse, which has a review score of 9.4 on Booking and has gained the reward Travelers' Choice and/or Certificate of Excellence 8 years in a row. Here are links about Hrifunes Guesthouse.
https://wsimag.com/travel/65486-hrifunes-off-the-beaten-track
https://www.facebook.com/244681439639/videos/353426988642710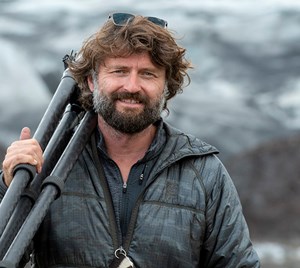 Haukur says
Hi and welcome to the Highland Guide website.
Being outdoors has always been a great joy in my life. This is probably because I spent so many summers at a farm under Vatnajökull Glacier during my youth and on so many photo travels with my father back then. I became a professional photographer mainly because of my admiration for nature and the light and landscapes Iceland's so rich in. I have traveled all over Iceland, but my favorite place is the highlands. I have driven, hiked, kayaked and flown my Jodel airplane around there for 30 years. I flew not only to photograph but also to gain knowledge of the area while discovering fascinating, well-hidden gems. Later on, I hiked these areas, and because in the highlands, in this untamed wilderness, I have felt my most vital experience of nature, I  am now using them to design and provide great hiking experiences.
I believe that hiking in the highlands, comfortable accommodation,  traveling in small groups, and getting to know the land, its culture and delicious culinary, is the best version of traveling experience possible.
Shall we go?